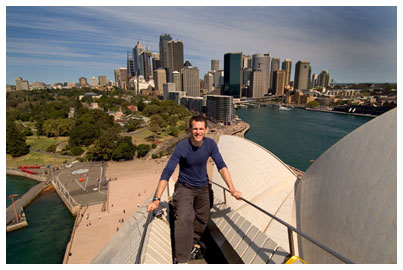 Passionate about Photography
The creative force driving  Philippe Penel Photography is of course Philippe who has been working as a photographer for 24 years.
He studied photography at Sydney's Tafe and further honed is craft experimenting various creative techniques while assisting for several professional photographers. This gave him a sound technical knowledge as well as the expertise required to tackle a variety of projects creatively and sucessfully.
Although he has photographed a multitude of subjects as varied as celebrities, actors, executives, athletes, products, buildings and families, he is now focusing primarily on capturing performers: dancers, acrobats, singers and actors.
Philippe and his team are focused on capturing "the moment". "The moment" can be a jump, a leap, a cool move, an attitude or simply an expresion on a face. We can see it in the studio, during a rehearsal, on stage or in a beautiful outdoor setting. The moment is fleeting; the photographer has to be ready, that is to say he has to anticipate "the moment" before he presses the shutter, effectivelly capturing the present. It all comes down to experience, years of  practice and taking hundred of thousands of photographs.
We love trying different poses, lighting, angles and challenges so don't hesitate to push us…
Our Vision
Our vision is to provide:
our performing arts clients with stunning photography that captures their love and passion for their chosen art.
our portrait clients with beautiful photographs that reflects their personalities and professionalism.
We treat every client as individuals and as such they receive our highest level of attention, commitment and professionalism.
We promise to be conscientious, dynamic, creative and warm.
Our Gear
We use Macs for our desktops and laptops, they are very fast, beautiful to look at 🙂 and all talk to each other seamlessly.
We use Nikon cameras and lenses but also Cannon gear too.
We use Elinchrom studio lights and modifiers.
Don't Be Shy. Get In Touch.